As you consider diapering your baby, you may be running the numbers. Our first inclination may be to buy a box of disposables and check that item off our list. Many will assume that disposables are obviously a less expensive solution. However, this is not necessarily the case. A recent study found that families using disposable diapers should budget between $150-$275 a month for at least the first 6 months of a baby's life. Choosing an eco-friendly diaper puts you at the higher end of that estimate, and using an off-brand diaper on the lower end. By comparison, soon-to-be parents will find the cost of cloth diapering  through a service like Luludew anywhere from $169-$256 a month. Surprise! Choosing the most eco-friendly and baby-safe diaper fits into a disposable diaper budget! But we don't stop there! We are a curated service!!! We come to you!
Let's break it down further to see what benefits are included in using a diaper service that are not available with disposable diapers.
Impact on Environment & Economy
A baby can use over 2,000 diapers in their first year of life! And it takes over 500 years for a single disposable diaper to decompose in a landfill. That means every single disposable diaper ever used is still sitting in a landfill, and they will be there for a very long time. True, it does take energy and water to wash disposable diapers, but when a single cloth diaper can be reused for up to 7 years and is used by multiple families – one cannot deny they are better in the long run.
Additionally, by choosing a small business like Luludew you're being supported by a local company that comes to you. We live in your neighborhood, drive your streets, and give back to your local economy! Compare this to large companies whose factories often remain unhindered in their mass production of greenhouse gas emissions and impact on the environment. With Luludew you have personalized support from people who love what they do and care about your family.
Ingredients & Your Baby's Health
It's no secret that BIG disposable diaper companies add nasty ingredients such as dioxins, unspecified fragrances, plastics, chlorine bleach and sodium polyacrylate into their diapers. While these excel at absorbing tons of baby pee and poo, they are suspects in baby rashes and irritations.
On the other hand, cloth diapers are made from entirely baby safe materials. Organic cotton and bamboo terry are soft, absorbent, and free of any harmful chemicals.  Materials that are breathable and earth-friendly.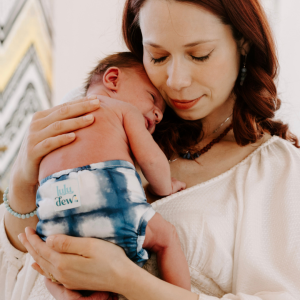 Convenience
Disposable diapers advertised as "convenient" because you can toss them straight in the trash. Something that doesn't get discussed is what happens to those diapers after they get carted away? If you're washing cloth diapers at home you certainly loose this level of ease. However, with a diaper service this convenience is restored! Tossing baby's soiled diaper into a bag that will be picked up once a week and driven to our local warehouse is super easy. With Luludew there is no need to scrape or rinse your diaper before sending it to us. Leave your dirty diapers outside your front door, and we'll take them as is. We're your one-stop-shop for diapering. You can even add wipes (cloth or disposable), healing balms, wipe solution, and other diapering accessories to your weekly delivery. Forget trips to the grocery store for diaper supplies!
Customer Support
Consider Luludew as your personal diaper concierge! Being a parent isn't easy, so we're here to take one item off your list!  We've been doing this diaper thing since 2010 so ask ANY question… we've likely already heard it and already have a solution to solve it!
Potty Learning
In general, babies who use a cloth diaper tend to potty learn about 6 months to 1 year earlier than their disposable diapered counterparts. In short, cloth diapers feel wet. This helps your toddler know that their body works and it helps them migrate to the potty much quicker. With earlier potty learning comes cost saving at the tail end.
"One Diaper at a Time"
We believe every diaper matters. Whether your family can cloth diaper full-time or only part-time, our flexible packages accommodate your family and how you choose to diaper. We have hybrid options if you choose to use cloth part-time. Diverting even 50% of your diapers from landfills makes a HUGE difference for our world and for your baby!
Sign up today to get your first diaper delivery to you!