environmental
THE TRUTH ABOUT WATER USAGE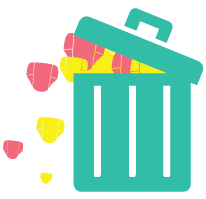 Using a commercial diaper service saves resources! We launder in large batches using less water, energy, gas, etc. compared to laundering at home.
When you opt to use a paper diaper with Luludew, we reduce your carbon footprint since we're already in your neighborhood delivering to other clients.
THE BENEFITS
To manufacture a cloth diaper takes minimal resources.
By using cloth diapers, you are making a conscious choice to save our landfills from unnecessary waste.
Cloth diapers release solid waste where it belongs – into the sewage system where it is treated with other household waste water.
In addition, cloth diapering products can be used until their diapering life is over then made into rags, and will eventually decompose and return to the earth.
When you use our diaper service we are involved in every step in the laundering of your diapers.
We take pride in researching options that make our laundering process the least impactful on our environment.
We launder with biodegradeable soap, package our diapers in reuseable cloth bags, and deliver our diapers in energy-efficient routes.
If you want to experience the benefits of cloth or paper diapers for your baby or toddler, please call us! 323.225.5858 or email: info@luludew.com.
Recent Posts
The day after any major holiday is lazy day in ...

Listen to our Interview Cloth diapering is an a...

Oh the joys of a brand new baby! Both amazing a...

When my wife first brought up the idea of using...

As you can see from the image on the bottom, th...