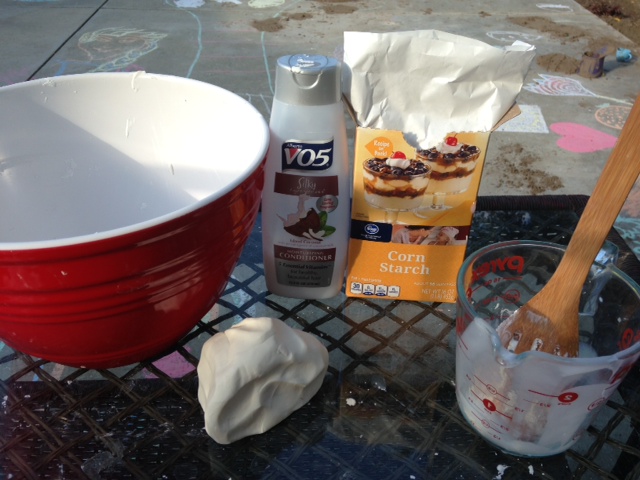 The day after any major holiday is lazy day in our home. We clean up from the previous day's festivities at a snail's pace. We had tons of leftovers from our BBQ yesterday so food-planning was taken care of. I stumbled upon a blog post with a super easy recipe for stretchy play-doe and decided to give it a try with the kids. It requires 2 simple household ingredients but we decided to go out and buy super cheap ingredients because I wasn't about to use my vegan conditioner for this fun activity:
Here's what you'll need:
~1 cup cheap conditioner
~2 cups corn starch
~mixing bowl
~measuring cup
~mixing spoon
That's it! Mix ingredients together. We mixed everything outside and then brought the play-doe inside to play. Clean up was a lot easier that way. The texture is silky smooth! You'll end up with an activity that will keep your kids entertained for a VERY long time!
And what's an experiment without empirical data! I timed the entire activity from start to finish. The playdoe took (5 min) to make. The remainder of the time (40min) was uninterrupted, unassisted joyful play by the kids! Enjoy!
Tip: wrap in plastic wrap to preserve texture for future use.