customer care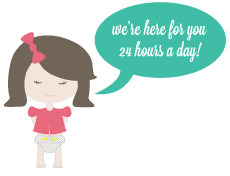 We understand that caring for your little ones takes time and commitment. You can't always get to a phone in time to make changes to your account or ask important questions regarding your service. For your convenience, we are open for questions 24 hours a day via email. We will get back to you within the next business day.
Need to make changes to your account or hold service? Send us a request via Account Changes.
Recent Posts
The day after any major holiday is lazy day in ...

Listen to our Interview Cloth diapering is an a...

Oh the joys of a brand new baby! Both amazing a...

When my wife first brought up the idea of using...

As you can see from the image on the bottom, th...